Yes, it is true… my halls have been decked, we are ready for everything that Christmas has to offer. I am sharing my Holiday Home Tour today! We have snow on the ground and frigid temperatures… I am calling it now… the Holiday season is upon us!
For anyone that has been following along with me I shared about a tough time I have been going through with the passing of my Grandma. She was such a big part of my life and the holidays will be tough to get through. I am bracing myself now for that but trying to enjoy the memories I had with her and still make this season magical for my kids. I am taking tiny steps easing back into my new normal, this blog being one of those facets I am getting back into.
Today I am taking part in a Home Tour hop with talented home decor bloggers! Each day a new group will open up their home to all of you lovelies to share their beautiful Holiday home decor. If you are coming from Up to Date interiors, or any other blog from the blog hop welcome! I am so happy to have you here! Be sure to check all of the blog Holiday decorating ideas out at the bottom of this post!
One day last week, while snow was falling I told my kids it was time to decorate for Christmas. They were so eager, I have three kids that all love this time of year. My middle son Caleb we call Mr. Christmas. He has been singing along to Christmas music since the first snowfall on Halloween so it felt like time to accept the season that we are in and just go with it.
I will always be a summer person, barefoot, sunny, long days, flowers blooming, sunsets and swimming is my natural happy place. However the holidays is a very special time of year that captures my heart in a cozy kind of way. Probably to help me get through the long winter months.
Before I really get into this Holiday home tour I wanted to also remind you of the many DIY and craft projects I feature in my home. To make searching for tutorials of these easier I will link to them at the bottom of this post. This way anyone looking for a specific project can easily find it. Anything not linked let me know what you are looking for and I will point you in the right direction.
Each year my Holiday decor seems to have a mind of it's own, life transitions just enough that I find myself craving new additions, colors or themes. This year was no different. As I started pulling our my Christmas decorations I found myself leaning towards relaxed and rustic with a bit of whimsical thrown in. I also really cherished getting out the decor items that my Grandma has given me throughout the years. Those little touches are what makes a house a home during the Holiday season.
Of course with my year-round decor and furniture I am still rocking my typical light and bright style to my home. My house and decorating has been described as casual and calm by others, I adore that people get that feeling from it. That is exactly what I want people to feel when they are in my home, the holidays is even more of a time I want everyone to feel calm in my home. Add in that wonderful winter coziness and it is holiday perfection!
My kids are 11, 10 and 8 so we are still in the fun feel to Christmas and I love it. I was at a few home decor stores recently and drooled over the elegant and classic Holiday decor, but I reminded myself I have time for our family to mature into that season of life. For now we are still heavily into Santa, his elves and the pure magic of the season. So I am rocking the whimsy and fun until my kids beg me to stop.
Simple is the key to success for any holiday decorating. I am a little ahead of the game because of this blog. We are all so busy this time of year, between Thanksgiving, Christmas, New Years, school functions, holiday parties, Christmas gift shopping, wrapping, cooking, holiday traditions… and enjoying your loved ones during this time it is A LOT going on. Decorating needs to be simple, just being honest.
A perfect example of easy decorating is my coffee table; I used a table runner, colorful ornaments, candles and wood Christmas trees. Boom, coffee table centerpiece was done in minutes. It is adorably colorful, fun and full of Christmas cheer.
Everyone in our home loves the added coziness of the Holiday season. From the tall to the small and even our furry family members. Finn is loving the fancy dog bed and warm blankets.
We go with traditional and old school around here to decorate our Christmas tree. It is filled with adorably homemade ornaments, gifts from the kids, scribbles of love, cute toothless grins, tiny hand print… all of the best kinds of ornaments to have on a Christmas tree.
The small train set on the fireplace was my Grandma's. For as long as I can remember this was part of our Holiday decor and it is a favorite for my kids now too. They set it up every year and it looks adorable.
One big change to my decor this year is the fireplace mantel. I added a new garland and new artwork. With the addition of the blue shiplap it has forced me to get creative with making seasonal decor work. Keeping things simple is best to help it all blend in together.
These DIY wood snowflakes I made a few years ago are still a favorite for me to put up in my home.
Most of the Christmas books on the shelf under the TV were also ones from my Grandma. She pulled them out every year when I was growing up and we would read them together. Now my kids have that same tradition and they love getting them out to read. Small little traditions like this make my Grandma and other loved ones a part of the season still.
Decorating for Christmas so early can have one big drawback, we will be living with this decor for a while, my kids were shocked when they asked Google how many days until Christmas and they got a big double digit number. I guess they were hoping that decorating early will make Christmas come early.
So I went with simple winterscapes for the artwork and adore the results! One other special thing about my fireplace mantel is the Pottery Barn monogrammed stockings. When I was pregnant with my first child we were young, Dale had just finished college and anything from Pottery barn or monogrammed was out of our budget. For years I wanted these stockings. It was the epitome of Christmas to me and I had visions of not sugarplums dancing in my head but adorable stockings with my kids equally adorable names on them hanging on the fireplace.
Finally 3 years ago we were secure enough financially where a purchase so unnecessary like that was justified by my husband kicking butt with his career and my blog turning into a career for me.
Guys, I legitimately got teary eyed when these came in the mail. It was everything I had hoped they would be and was such a great boost in confidence to how far Dale and I had come with our little young family. I will cherish these always.
I know I will also cherish this phase of parenthood with younger kids that are all about the magic and fun of the season. My home reflects where we are right now. When my home is elegant and decorated in whites and beautiful classy decorations it will look gorgeous. But I know a part of me will miss the fun and whimsical home that was filled with my little ones for Christmas.
Another aspect to my holiday decor that I have prioritized is making my typical decorating style blend in with the Christmas season. Initially I decorated with an explosion of color and holiday themed decor. It felt like my actual home was put on pause for the Christmas season. Then once it was over we could settle back into our preferred home style.
I found myself counting down the days until I could get rid of all of the Christmas decor because of this. My home is light and bright with cool tones and a coastal style to it. I eased up on the traditional decor and found a happy balance that works for my desired decorating style for Christmas.
Embracing pops of blue during the holiday season is a big part of that. My house does not feel like home without blue tones in it. Just the way I roll.
Stop everything for the adorable Teddy photobomb! Any regular reader to this blog knows that Teddy loves the spotlight. Every home tour I share he makes an appearance and none of it is forced. This Holiday Home Tour is no different. While I move around my home snapping pictures Teddy sits pretty and waits for me to take notice. He knows cuteness wins every time.
My home has gone through a few transformations over the years. With it being a somewhat open concept house with a flex room I have utilized the possibilities. The living room has been a living room/dining room combo. Now that the kitchen is being renovated it made sense to change things up again and move the dining room into the "flex" room in my home.
The current dining room has been a play room, office, study with an art table for my kids and even a family TV room over the years. Yes, I have made it all work.
The current layout works nicely with the dining room being the breezeway between the living room and kitchen. With the wall being taken down between these two rooms the dining room felt more authentic to the space than ever before. It also brightened up the room so much! This Holiday Home tour I am showing off a lot of my kitchen remodel, the most I have shown up to this point. But more on that soon!
Next week I will be sharing a fun and simple Holiday tablescape. Part of this will be the bottle brush Christmas trees as the centerpiece. I love the sparkle of these and also that they are more neutral colors without being boring.
This dining room only has one window and it can be dark at times. So I felt keeping the holiday decor in here more sparse, not have it be overbearing.
Once the kitchen is done this room will be the next room to get my attention. I have plans to build a bar/coffee/storage/hutch built in on this wall. I have the design for it down, dimensions and all. I just need time to get moving on it. For now all of my attention is being devoted to finishing the kitchen.
I am showing a lot more of the kitchen! This is me being real, it is an undone space with exposed wood, but hey… this is life and massive renovations take time. So for now the exposed entryway where the eventual transom windows will be will have to do.
Here it is! My beauty of a kitchen that is about 60% done. We have the bones done, a lot of the "pretty" done and just need the smaller details to wrap up this project. There is about 50 smaller details to get to that all will take a lot of time but make a huge difference in making this kitchen feel polished and complete. In time.
Even though it is not done I was eager to decorate this new space for the Holidays! I added small Christmas touches to the kitchen in more subtle ways. Still wanting to maximize function and keep holiday clutter to a minimum.
Here is the cabinets in all of their turquoise beauty! I have been so busy working on this room, just checking things off of my giant to-do list that I have been lacking in updates on the blog. Next week I will share a giant update on the kitchen and then laying out a lot of choices I made and why I made them.
The cabinets are missing hardware, molding and glass doors on the upper cabinets. Pretty much they are painted and attached to the wall and that feels like a huge accomplishment!
The kitchen is so much bigger and more open now but I am convinced that no kitchen will ever feel big enough. Throw in some lunch boxes on the counter, meal prep, dirty dishes, people always congregating in here, mail stacked up and whatever else that always seems to gravitate in the kitchen and space is a premium. The holidays are no different.
I added a few smaller Christmas themed decor here but kept it very minimal.
When picking out the cabinet paint color one of the reasons I was hesitant to go bold with the blue color was my concern on making it work during the holidays. Not that I would decorate my home with the holidays in mind, but I did question if I could make it all blend in together.
The light blue of the cabinets work beautifully for the Holiday season! It feels like an ice blue winter wonderland and I love how it looks with the warmer elements of reds and greens.
The kitchen island decor I also wanted to keep more contained. We use this space most in the kitchen. It is food prep, serving space and even the homework spot for my kids. A lot needs to happen here, so using the serving tray makes the decor easily contained and also able to be moved off of the island if necessary.
This little corner of the kitchen is filled with Christmas crafts and DIY decor. Most of it is things I have made or altered to decorate for the holidays without spending a ton of money.
Keeping with the winter wonderland theme of the light blue cabinets and white back splash I went with DIY snowballs and frosted sticks. It all feels like they were touched by those winter fairies from the Disney Fantasia movie fairies. I am sure you remember the ones.
Later this week I will be sharing a video walk through of this Holiday Home Tour and especially this kitchen! I have been keeping it under lock and key trying to save the big reveal for when every single piece of it is done. However, with us doing it mainly ourselves this kitchen is taking a long time. Responsibilities, life, jobs, kids, school PTO… all of it adds up to me not having shared the progress here on the blog and I am just too excited to be this far in the project to not share it! The final reveal will happen whenever we get there.
As you can see the island columns still need to be attached and finished. Like I said, this is a work in progress but I am finally to a point that the pretty outweighs the work. The rest will come in time.
The newest home tweak I am sharing in this Holiday Home Tour is the small space off of the kitchen. This room has been a dining room, office, and small playroom for my kids. Now we use it as mainly an extension of the kitchen. The pantry is on one wall and this sofa fits perfectly in the window.
It has become my unofficial window seat and I adore this cozy space! Many days I work from this spot. It has a beautiful view of the backyard and has so much natural light streaming in.
When I decided to move this sofa into this space I wondered if I was crazy, Dale certainly thought so. He really disliked the idea of the sofa in here, "A sofa in the kitchen?" he said to me multiple times. I begged him to help me move it in here anyways just to see. When we had friends over right after moving it into this window nook I asked them if they thought it was weird. They said "No, I love it. I can watch you cook me food and relax at the same time! I am just trying to figure out how I can make a sofa work in my kitchen too now." So I learned that day that I-WAS-RIGHT! If you take nothing from this Holiday Home Tour I hope it is that.
I went more winter themed with my decor in here instead of Christmas specific. I love the gray hues in here so much. The small Christmas tree is actually our kids tree. Each year they make ornaments throughout the holiday season and decorate their tree. Then at the end of the season I mark the name and year their creations were made to keep. It has become a special and favorite tradition in our family. My kids go crazy decorating it with paper ornaments, garland, stars and sticks with random things tied to it.
For now the small Christmas tree has no ornaments on it, but all month long new ones will find their way onto the tree. I will share an updated picture in this Holiday Home Tour and on social media once my kids have gotten busy making some DIY ornaments.
One day this view will have polished and prettied up wood trim… one day…
As you can see, my home is in a transitional phase. The built ins on either side of the fireplace will be a project I tackle in the near future. The bar/hutch in the dining room and the kitchen being finished are all projects I am so eager to finish. I look at my home and see how far it has come but also how far it has to go. I have sooooo many ideas!
For now the magic of the Holiday season, time spent with loved ones and my cozy home feels perfect for the season! This Holiday season is the first one I will be having without my Grandma and I am holding tight to those good memories I had growing up with her. My kids are also the sweet refuge I need this time of year to force that wonderful joy that only the magic of Christmas can bring. My home is ready for the holidays, the weather is cold, snow is on the ground and my Christmas gift list is made but 0% shopped for. Yes, the holiday season is here in all it's chaotic and fun ways. This Holiday Home tour with fellow blogging friends is the best way to kick it all off! Be sure to visit All things with purpose and her amazing home as well as all of the other bloggers Home tours this week!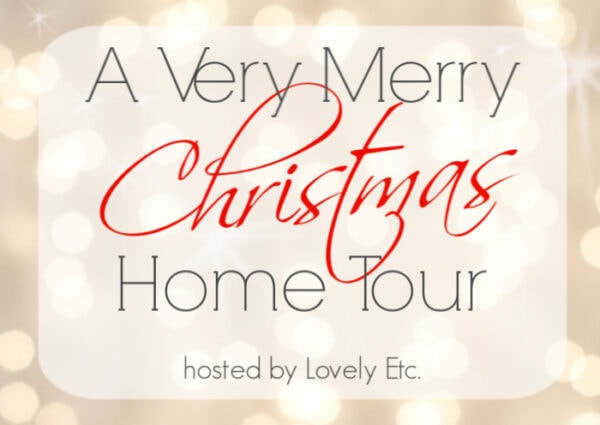 Monday

Lovely Etc * Thrifty and Chic * Boxy Colonial * Chatfield Court * A Brick Home
Tuesday

The Striped House * Casa Watkins Living * Up to Date Interiors * Our House Now a Home * All Things With Purpose
Wednesday

Green With Decor * Lehman Lane * Jonesville * Sweet Pea
Thursday

DIY Beautify * What Meegan Makes * Sunny Side Design * Bright Green Door