Last week I introduced a new addition to this blog, the Home decor & DIY blog news, inspiring projects from this week – series #2 is what it is all about today!
If you missed the first week, you can find it here. What this really is is for me to get to stalk home decor blogs all week and celebrating all of their amazing ideas! This is the Home decor blog celebrity gossip place, which these people deserve to be talked about. Seriously, there is so much talent squeezed into these blogs, all with stunning homes and even better home decor ideas.
Each Friday I will be sharing their latest and greatest from the week. It may be a specific theme for one week, a specific decorating style, or just some ideas that caught my eye. The best part about this is that it has now become my job (self appointed) to peruse other blogs, stalk their homes and drool over their ideas! Now you all can see it too! Be sure to visit the blogs itself to see the complete post with all of the information!
Now let's get to Home decor & DIY blog news, inspiring projects from this week –
As a home decor blogger getting a magazine feature is one of those bucket list kind of moments. My life from home gets to check off this! She redid her bathroom into an amazing farmhouse oasis. Seriously, this bathroom is pure perfection. I would not want to change anything about it. Those tiles on the wall are beautiful, I am loving the patterns and colors. This bathroom deserved it's time to shine! You can see the bathroom and all of the information on the magazine feature here.
OK, I need to change my boy's bedroom theme and make this rocket ship that The Handymans daughter made. I love a good DIY project, and have not gotten my hands dirty with saw dust lately. This would be the best shelf for my kids to store toys or books. Also, the tutorial for this is really detailed, with every little step explained. So if you are in love with this like I am you can easily make one of your own! Check out the tutorial here.
I have been a huge fan of Little house of four for a long time, she has such a talent for DIY's, crafts, and decor ideas. She explained how to make an aged appearance with paint. I love this idea so much. A lot of times people overlook tiny redos like this, but this is what makes a home feel decorated. Small details like this, to help give it that style you want. I also love learning new painting techniques and this is one I will be trying! You can find the details here.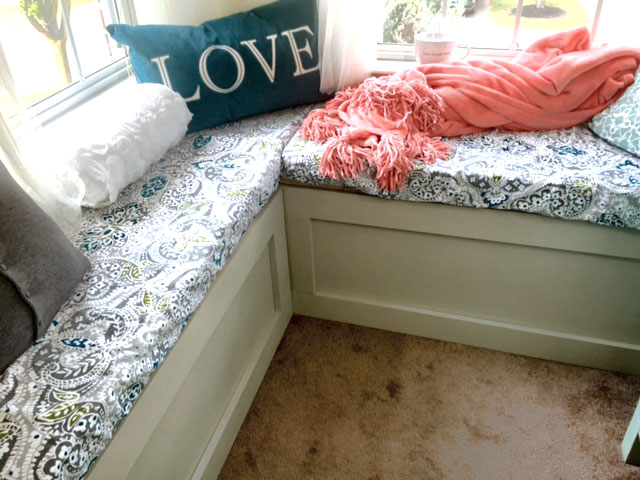 This is on my to-do list, a big and beautiful window seat. I have already made plans for one and am excited to get working on it. This dreamy window seat that Create and babble made . This little nook is in a corner in her room that will be part of the upcoming One room challenge. I am loving this new addition to the room so much! Also, we all need more storage in our home, everyone. You can see the details  here and also how her room looks before it gets fully updated.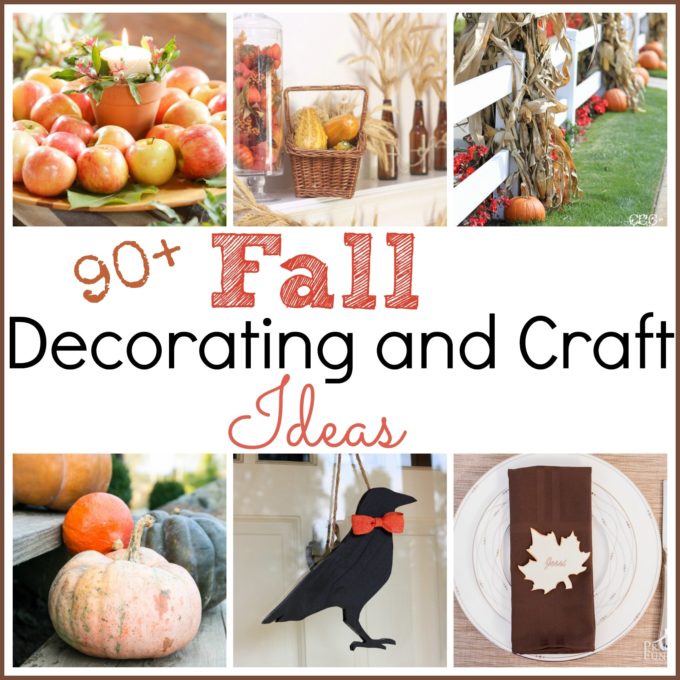 This is just what I need this time of year, a ton of fall craft ideas! Sweet Pea hosts a weekly link party called All things creative, and this one is impressive because it is fall themed this week. I mean, there is a ton of fall crafts and more are being added! I always get lost in posts like this because I keep wanting to hop over to all of the blogs and then I want to make all-of-the-things! You can even submit your own project here. 
Oh this is beautiful! First of all, I am all for things that are simple, including home decor. This front porch that Kreativ K shared is stunning! I love that is is different, she even found a way to make cactus look and feel perfectly fall. And yes, that is a wood pallet table, the simplicity of that is great. I like the mix of white and then rustic touches. All of the pictures and small details can be found here.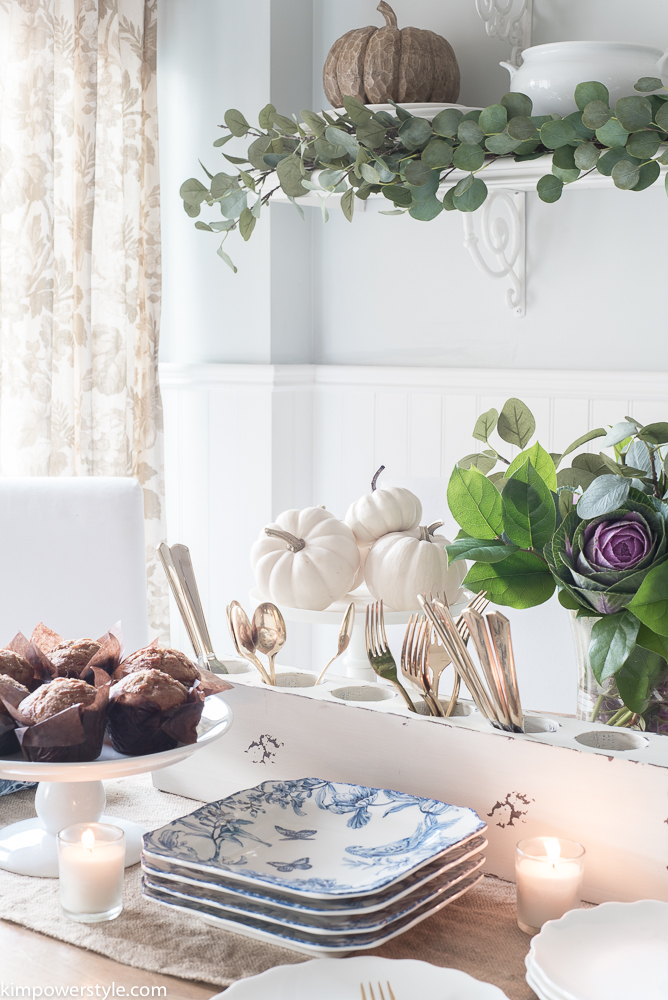 Anyone else dream in home decor? In all of my dreams, I always envision a beautiful breakfast nook filled with light, where I can relax in the mornings and start the day off right. The fall tour that Kim Power style shared of her breakfast nook is so pretty! I love that it still feels very much like a fall decorated space, but it is not overkill. Light and bright is still the theme for this space. You can see all of the pictures here.
We all know I adore coastal decor, so anything that can help my love of beachy decor I am all for. This sign that Sustain my craft habit made looks great! I think doing something like this DIY style is the best way to get this in your home. Signs like this, in this size can be expensive. But, with the steps that are shared in this post it is easy to make one of your own! Full tutorial is shared here.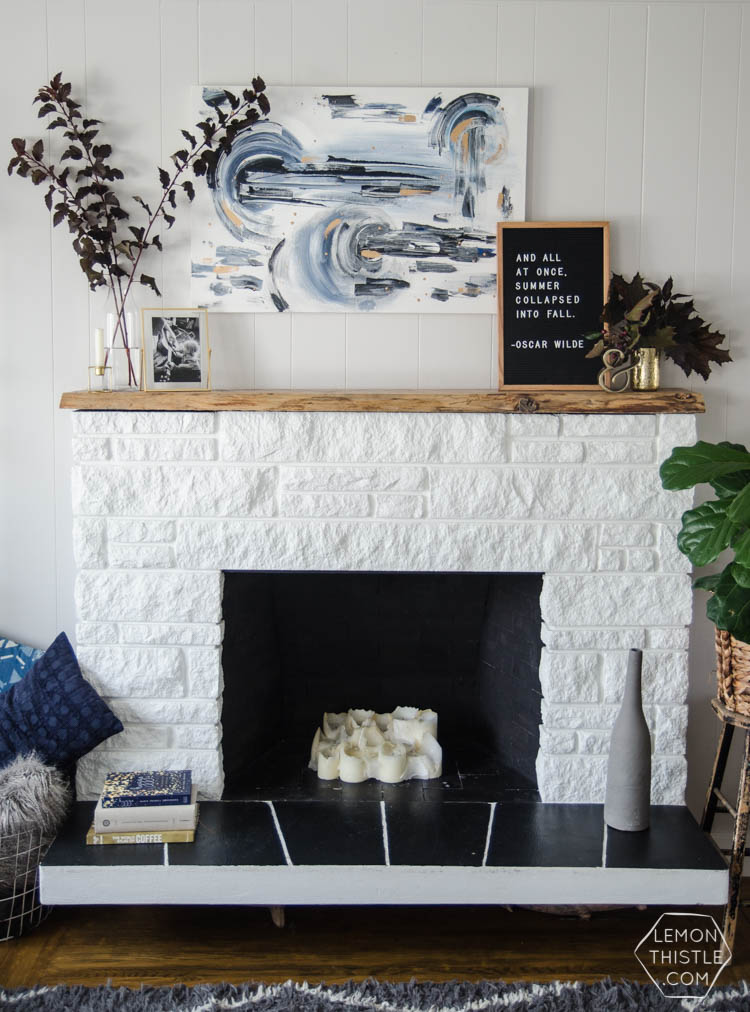 I will never tire of fall home tours, ever! This one that Lemon Thistle  shared has to be one of my favorites! I love that it is not the typical fall theme, colors or style. It feels like a big breath of fresh air, and fits in with those crisp days that we all love in fall. Seriously, this has so many great small touches to it, from the kitchen, dining room and living room. Looks like a perfect place to cozy up and relax. You can see all of the pictures here. 
I painted my cabinets a few years ago, and while I adore the results I know there was an easier way for us to do it. Farmhouse made gives the best tips and tricks to get the job done. The before of her kitchen is amazing, I love a good before and after and this one is sure to impress! This is a beautiful room and all of the work put into it is impressive. You can find the complete tutorial here.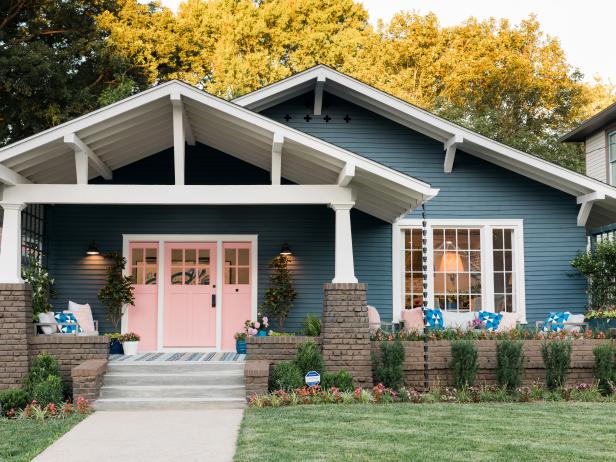 This one is not quite home decor related, but I felt it was too exciting to not share. On October 2 anyone can enter to win the 2017 urban oasis home that HGTV created. Guys, it is seriously impressive and if I won I would be packing up my family and moving us to live in Tennessee in this beauty! I figured everyone would enjoy this little piece of information and a chance to win. Good luck!
I think as the weeks pass by with this  Home decor & DIY blog news, inspiring projects from this week – series #2 blog post series I will be fine tuning how I share content. I am still figuring it all out and how best to give you guys the latest and greatest home decor content. If you have any requests or ideas on how this post might be more interesting or helpful let me know! I do know that the hardest part of this post is not sharing even more ideas! There is so much great content out there, and I am always amazed by home decor bloggers with their raw decorating talent. Happy Friday, and have fun discovering these awesome ideas.
Have you seen any home decor that blew you away this week? Are you a home decor blogger and want to share with me what you have been up to? Share the link here in the comments, email me at emilye1@gmail.com or tag me on social media, let me see what you have been working on!