Hi all! My kids are in school, I have my routine set and I am back into the swing of blogging! Which means, time to get to decorating! Well, really planning. With it being September I am in the middle of decorating my home for fall. I adore this season, and am excited to get to decorating. Today I am sharing How to blend fall decor into a blue and coastal themed style. I am sharing a few wonderful neutral themed fall decor pictures and ideas from some blogging friends, to show off how to execute that sought after calming fall theme.
Well first, let's be real. Summer with my three kids home hit this Mama hard. Last year was my first year blogging full time, and my first year with all three kiddos in school all day. I got into a wonderful routine of kids in school and me having a large block of time to work, decorate, create, craft, take pictures, edit and write. Not to mention keep up with laundry and other household busy work. Once summer hit I managed to keep my house running, my kids alive and healthy, and most importantly we had a ton of fun. My decorating side of things and my blog took a nose dive. I could not juggle with the work-from-home part and just did the stay-at-home-Mom part of life.
I have zero regrets and we had a wonderful summer. Now that kids are in school I am all-in with decorating and this blog again! Thank you so much for sticking around and letting me slow things down around here. But, back to decorating! This year I am feeling a change to my fall decor coming on. Going away with the traditional orange and red, and blending into a cleaner, and more neutral overall look. Since I am still planning, scheming and dreaming let's drool over some beautiful neutral fall decor from other bloggers while we chat.
Last year I delved into blogging full time and also really started trusting my own decorating instincts. There was finally no second guessing my style choices, color combinations or patterns. My home has settled into a cool toned, blue hued coastal haven. It is relaxing, casual and perfect for our family.
Once the dust settled of my kids being in school I got out my fall decorations last week and started sprinkling them around my home. All of the warm oranges and reds seemed to be sitting on top of my decor instead of blending in. This is the first year I am having to alter my seasonal decor in big ways. Since I am not a professional decorator, and would never claim to be I know that "my way" is not always best. Be sure to chime in with ideas on how I can decorate my home for fall. Colors I should use, or other ideas!
I am not ready to go full blown blue fall decor yet, maybe in a few years. But the traditional colors of the season don't quite feel genuine to my home now. So what is a decor loving girl to do? Get to planning and crafting! This week I plan to overhaul my fall decor in small ways. No one has the time or budget to scrap all of the decorations made and accumulated over the years and start fresh. I don't either. This transition will be a process, and this year is my first year really changing things up.
My plan of attack to have the seasonal fall decor fit into my blue, gray and coastal home is to go along with it. I am going to use white, beige, and some grays for the seasonal decor. Throwing in a tiny bit of orange, and a lot of nature inspired items like twigs, sticks, pine cones and acorns to warm up the space. To me fall decorations is about how it all feels. Fall is the season for cozy sweaters, fires in the fireplace, crystal blue skies, and nature being set on fire with colorful leaves!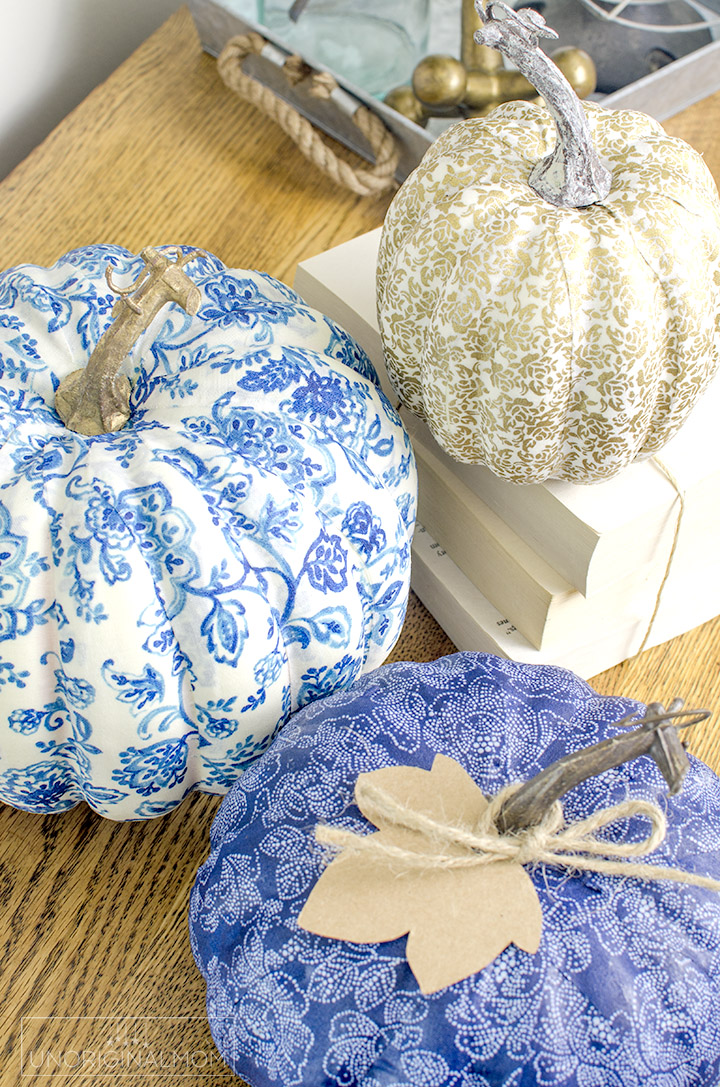 I am going to be using what fall is and moving towards that with my decorating this go around. I have always felt that my seasonal decor in the past made my home feel festive, but it never felt like our home. Just a point in the year that our home was put on pause to celebrate all things fall, then Halloween, and ending with Christmas. After all of the festivities of the holiday season I am able to get my home back into what it always has been.
Our home is ours year round, and in trusting my decorating instincts this year I am also going to go out in a new direction. Away from the traditional fall decor and making it work for me. My perfectly imperfect home full of blue, gray, white, geometric patterns, shells, and a rustic feel. But, adding in some pumpkins, because you cannot have fall decor without pumpkins. Pretty sure it is in the code of conduct for decorating.
To keep the cost down on this fall decor overhaul I am going to be doing a few DIY decor projects, some simple fall crafts to sprinkle in the season with my new theme in mind. Possibly even going fancy and getting a few store bought items. I know, I am going big this year! I also keep a tradition of having my kids help me decorate for the season, they love to set-out the decorations and really pride themselves on helping us greet in a changing of the season in our home, which will be happening this year as well.
How to blend fall decor into a blue and coastal themed style, the major plan is to work with what I have. Making the new fall decor compliment my home in it's beachy and blue glory. Go with the flow instead of fighting it. My home seems to have a mind of it's own, yes I am in the drivers seat, but the phase of life we are in, the additions made to our home throughout the year, and a shift in our schedule seems to bring out a new transition in the decor for our home. A home is the complete reflection of the family within the house. Ours is hectic this time of year with school, sports activities, fall fun plans, and getting our home ready for the winter months. I am craving the calm feeling that my home and it's decor gives me throughout the rest of the year. Fall decor this year I hope will reflect that same casual and relaxing feel that we have come to love with our home. Look out for some new fall crafts and DIY decor coming soon!
How do you blend in your year-round home decor for the fall season? Let me know, or tag @ourhousenowahome in any social media pictures so I can see your decorations! 
Here is my fall home tour from last year – click here
A list of my fall craft and decor ideas – click here
Here is even more neutral and Non-traditional fall decor ideas from my favorite bloggers!