Hi friends! We have made it through another week, and the weekend is upon us! I love the weekends, my kids are home, Dale does not work and we mix our weekends with some family fun and a lot of home projects. The past few weeks here in Wisconsin have been rough, we have had days that are warm and 60 degrees, mixed with rain, sleet, snow and 30 degrees the very next day. It has made for a very long and miserable Spring transition. Because of this, I am in need of some visual proof we will actually get to warmer temperatures. Home inspiration and weekend reading, week 4 is all about my home's back yard from last year and sharing some of my blogging friends with their gorgeous outdoor spaces!
I figured if I am in a spring funk, so are others. Well the ones not blessed to live in a dream climate where it is already shorts and t-shirt weather. If you are one of those people, I envy you so much! I adore our outdoor area, we have a huge patio, tons of landscaping and beautiful tree's in the backyard. It is one of my favorite places of our home actually. It is difficult for me, having grown up in southern California to only be outside for a few months of the year. I am used to year round sun and outdoor fun. So when it warms up enough here, you can't keep me inside.
I am sharing a flashback picture and project of when I repainted our outdoor furniture. I did it once, without sanding and taking the time to do it right. I paid for it big time, because I had to go in and do the job all over again. When doing things DIY style, do it right the first time. I love the bright and yellow furniture, I am not sure if these will last much longer. We inherited them from Dale's parents and they are in pretty bad shape. Once we start pulling them out we will see the damage done and if they will last another year. I am so antsy to start gardening, planting, laying in the grass, going for long walks, eating meals outside. I need it to warm up!
For now, with the temperatures in the 30's again today I will have to warm myself up with other lovely blogger's outdoor spaces. I know I will get to this point and am impatiently waiting for it to happen!
Summer porch decorating ideas, House of Hawthornes
I love a beautiful front porch, and always dreamed my house would have a big wrap around one. This porch by House of Hawthornes is beautiful! I fall more and more in love with potted flowers every year. I know they are work, but I gladly sign up for it. I love the vintage charm on this front porch.
Screened porch, Our Southern home
OK, a screened in porch or sun room is my ultimate dream. Growing up I loved the added living space, and now living in the Midwest the added benefit of being protected from bugs is amazing! This beautifully decorated porch from Our southern home is the perfect kind of cozy! I love the antique decor, and rustic elements. Decorating this space had to have been so much fun, I am sure enjoying this beautiful space is amazing!
Patio reveal, Prodigal pieces
There was so many amazing elements in this patio reveal from Prodigal pieces I had such a hard time picking one picture. The pergola with its stringing of lights. It has this beautiful fireplace surround that I am loving. There is a cozy and perfectly rustic seating area and eating area. This is all perfection and I want to be invited over to hang out in this backyard!
Pops of color porch, The Honeycomb home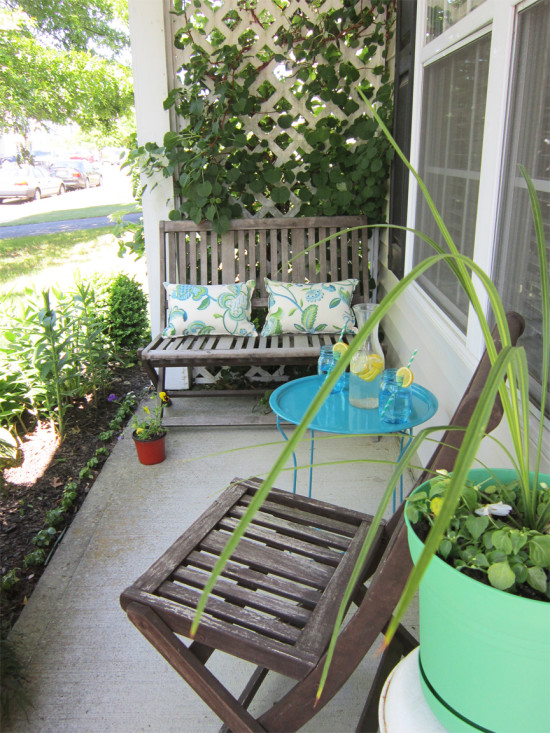 I love the simple ways to update a home. Outdoor areas are the same way. This porch from The Honeycomb home added some beautiful pops of color to the front porch. Just enough to make this shine and become a welcoming space. We all don't have time or the budget to go all out for a home. But this is the perfect example of a few well places throw pillows and decor accessories. Also, this has hints of my favorite decorating color! I am having a major love affair with the color turquoise and because of this have a big soft spot for a space with that color.
One room challenge porch reveal, Paper Daisy Design
This reveal from Paper Daisy Design is so great! It seems very calming and relaxing. I like to be active outside, but nothing beats relaxing after a long day of fun on a porch, or eating dinner outside. The decor on this porch is so perfectly simple. With this being outdoors, some of it most likely is put away when not in use. This is the perfect balance of entertaining and function. We all know I like a home that has good function. Also, that bench set into the side of the house is what I dream about. Seriously, built in anything gives me happy thoughts.
Screened in porch, Exquisitely Unremarkable
This screened in porch from Exquisitely Unremarkable is amazing for two reasons. One, it is so pretty! Two, they did this themselves! This gives me hope that one day I can have my dream screened in porch as well. I love a good DIY project and this is proof of when you work hard on something you can get it done. Now, this home has a bug free zone to relax.
Ahhh, I hope you enjoy seeing what these talented ladies have to share and I am sure you will find tons of inspiration! I hope you enjoyed this Home inspiration and weekend reading week 4, I know I always love to discover some new blogs. If you have a blog leave the link in comments, I would love to check it out and maybe feature some of your content next week! For now, I am off to try and enjoy the weekend…. even if it is supposed to be another cold one. We actually have no real plans for once. Just hanging out with the kids, I have a few crafts I want to get done. I also have been impatiently waiting to paint my front door, but every weekend the temperatures have dipped and I can't paint it. Grrr, Mother Nature is not cooperating with me at all.
How is the Spring treating you? Have you gotten to enjoy the outside yet?
Here are a few crafts you may have missed-
DIY kids totes
Vase redo, ready for Spring
Moss squares
DIY butterfly wall art
Dollar store summer tablescape