I have found two great chairs I am so excited about. And slightly… ok really terrified about too. These two orange chairs were purchased from Goodwill for $4.99. I saw these and be-lined for them to the back of the store. I did not know if someone else was walking that way. People are crazy in that store. And no, me walking swiftly to the chairs was not part of the crazy, never.
They are so pretty, I plan to reupholster both of these. I am scared, this is a large scope that I have never attempted before. My husband Dale is ready to go. He wants to rip this apart and have at it. His thought is if it turns out horrible we are out $4.99. True, but I worry we will suck at this redo, ruin the chairs for someone who might have actually done these babies justice. Who knows, we shall see.
This is what I want this chair to look like. I am digging the different back from the front
The light orange one I want to use as my computer chair. The one I currently use was a temporary one. Not the most comfy. The other one will probably go in the living room to replace a chair that is very comfy, but very ugly. It has a ill fitted slipcover. This will make the space more polished, hopefully.
These both have some great details on them. The curves, the shape, the legs. All so pretty. I have big plans for these.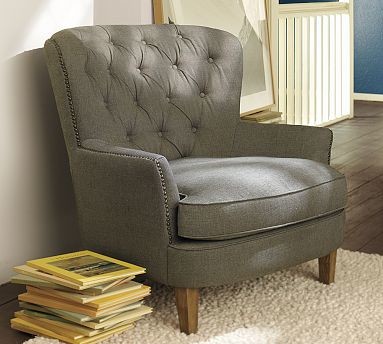 See big plans. I am not sure if I have the skill to do what I want, the test will come. I will either get two new and beautiful chairs. Or the dumpster will get pieces and remnants of a chair torn apart. But I do like these chairs. As crazy as it is I am ready for the challenge! Any and all tips for reupholstering are greatly appreciated. I am going into this blind.
the price, can you believe it?
Different legs and style chair, but they seem to have a lot of potential to me.